About Us
We are a locally owned company, and have been serving Charleston for 15 years. Professional mobile boat detailing is our passion. We offer boat cleaning, washdowns, boat waxing and buffing, gel coat repair, light carpentry, painting, teak varnish and refinishing, and monthly maintenance programs. Serving Charleston in all marinas, boatyards and private residences. We come to you to do the work.
About You
We are committed to customer service. When starting this company our goal was to build long term relationships with you, the client. We have succeeded. Our customers keep coming back year after year. We have a proven track record of delivering above expectations. We successfully deliver a higher standard of service in our industry. You will always receive quotes not estimates. Service plans are created for your boat individually every time.
Experience Matters
Our team is experienced and well trained. We approach each job with professionalism. We only use quality marine products. We have long term relationships with local marine vendors such as West Marine and West MarinePro. This allows us to have proper knowledge of products and techniques to provide results.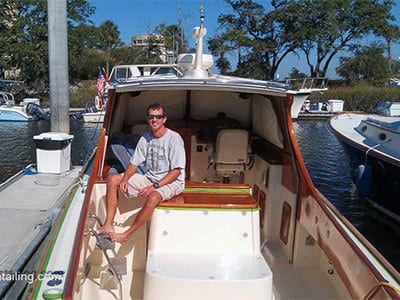 Andrew Adams
Owner
Andrew Adams has an extensive background in building successful companies in leading markets such as NYC, Washington, D.C. and California. His customer service based approach to business is directly responsible for the success of the company and its 15 year track record of continued growth and expansion.